Array
(
    [IBLOCK_ELEMENT_ID] => 5011
    [133] => Array
        (
        )

    [PROPERTY_VALUE_ID] => Array
        (
            [133] => Array
                (
                )

        )

    [DESCRIPTION] => Array
        (
            [133] => Array
                (
                )

        )

)

IE registration in 7 days. Registering a company with only one document
To run business legally in Russia without legal entity you will need to register as an individual entrepreneur (IE).
IE registration is a strictly regulated procedure the order of which is defined by the Federal Law "About State Registration of Legal Entities and Individual Entrepreneurs" on August 8, 2001, №129.
IE registration usually takes place in the place of permanent residence but in exceptional cases IE can be registered at the place of temporary residence.
Also you should know that IE is registered not only directly in the tax inspection but also in the so-called extra-budgetary funds: the Pension Fund of Russia and the Compulsory Health Insurance Fund. Registration is automatic in the PFR and CHIF. The entrepreneur has just been sent a notice that he/she is registered in these organs.
If you hire workers and become an employer you need to register in the Social Insurance Fund. In addition you may have to register in the Federal State Statistics Service.

To register a company is not so easy as it might seem at the first sight. Future businessman must take into account that some types of business activities require additional documents. For example, you may need the certificate of the previous convictions absence/presence and/or of the fact of a criminal prosecution.
There are several ways of IE registration:
IE self-registration
The cheapest but very troublesome way that requires much time-spending.
IE registration with the help of a law firm


This method will cost more than self-registration but will save time and if you trust experts you should not worry about the correctness of all documents.

If you decide to register your own company you need to prepare the documents for IE registration.
Documents for IE registration
1. The application for IE registration on P21001 form
Recommendations for filling in the application:
fill in the application with block letters.
for IE registration you need to know your individual tax number, if you do not have it you must obtain it.
the application must specify the name and code of the registering authority.
the document code for the Russian Federation is 21.
first you need to place the main activity of IE on the sheet "A".
ARQEAT codes have to be specified in accordance with the kinds of activities.
the sheet "B" has to be printed in duplicate.
the signature of an individual entrepreneur must be certified by a notary.
some of the items need to be filled out only by foreign citizens, people under age or persons without citizenship
it is not allowed to do corrections, erasures and incomplete or inaccurate information in the application.
the completed application sheets must be numbered and sewed together except the sheet "B".
The process of filling in the application of IE registration may seem complicated and time consuming. In fact very few people can do it without error from the first time so you should be ready for the attentive and careful filling in the document or you can simplify the problem by contacting our experts.
For IE registration you will need a copy of all pages of your passport which contains any information. Notarized copy of the passport is necessary if registration takes place through a representative by warrant.
3. Receipt of registration fee payment
The state duty for legal entity registration as an individual entrepreneur is 800 rubles. Any IE representative can pay the state fee. The receipt is paid in Sberbank. In this document you need fill in all the details correctly, fill in your name and surname and signature of the individual entrepreneur. Sberbank issues an order cheque after payment which must be necessarily attached to the receipt and the receipt with the order cheque should be attached to the front page of the IE registration application.
Download the application receipt
4. The application of the transition to a simplified system of taxation in the form № 26.2-1 (if required)
For small and medium businesses it is profitable to switch from the main system of taxation (MST) to the simplified system of taxation (SST). This will allow to reduce taxes and simplify bookkeeping. Simplified system of taxation allows an entrepreneur to choose by himself/herself the interest rate of 6 % on income or 15 % on "income minus expenses". You can switch to simplified system of taxation just once a year.
The application of the transition to the SST should be submitted in duplicate together with all the other documents. One copy is returned to the applicant and it should be saved.
If the documents are not filled out correctly an IE registration can be refused.
Favorable conditions for IE registration
IE registration is a simple but laborious process. We are ready to do it by yourselves so you do not waste time by following the formal procedure but can develop your own business. For those who want to open their own company CentrConsult offers a full service of legal support in IE registration. Our clients do not have to collect a complete set of documents, search and download application forms, follow the formal procedure and waste their valuable time.
Leave your request below and we will consult you for free on any questions of IE registration in any format convenient to you: by phone, email or visiting your office.
Leave your request for free consultation
If you want to:
Start your own business as soon as possible;
Avoid trips to the registration authority for the delivery and subsequent production of documents;
Avoid wasting time and efforts on filling in applications and preparing other registration documents, on studying and obtaining of ARQEAT statistics codes, payment of state fees, making of seals of individual entrepreneur;
Ensure that all the steps required to prepare and to register IE performed without errors,
... then we are ready to take on the entire process of IE registration from the preparation of documents to obtaining a certificate of state registration of individual entrepreneur. We wish you a successful registration!
By registering of IE with our help you will get:
IE registration at half price
One of the first steps after IE registration should be hiring an accountant to do a competent and timely bookkeeping of all financial documents.
We are ready to save you this necessity. If you entrusts us with a further accounting services of your company then we will register your IE with 50% discount.
What does IE registration procedure consist of?
We will need only one document, it is your passport.
If you have an individual tax number you will also grant it for IE registration if you do not have it we will obtain it for you.
Leave your request for free consultation
What you need to do takes minimum efforts, namely:
Our next steps:
We will prepare a full set of IE registration documents;

We will provide a cross-linked and numbered documents to the registration authority;

We will receive the documents after the IE registration from the registering authority;

We will make an IE seal for you in an hour;

We will make FREE notification of the tax system;

We will open a bank account for you and get the ARQEAT statistics codes (National Classification of Economic Activities).
The result: within 7 days you will get a prepared certificate of state registration of an individual as an individual entrepreneur and the entire set of supporting documents which will be thoroughly checked by our lawyers for compliance with applicable legislation.
Leave your request for free consultation
Here are the documents you will receive with our help: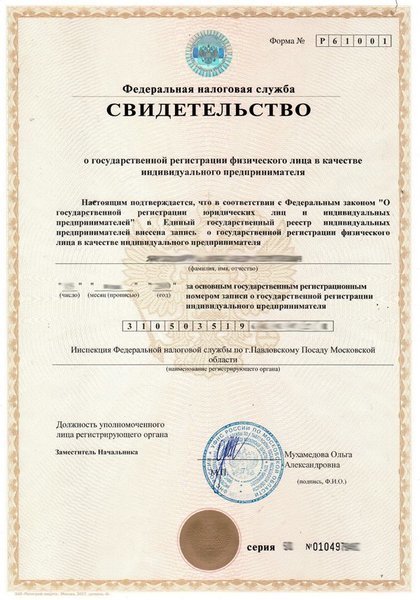 Why should you address to us for the help of IE registration?
Addressing to us you will work with a reliable professional company which has been working successfully in IE registration throughout Russia.
Companies' registration is one of the main directions of our activities. We have a vast experience in IE registration throughout Russia so we can do it professionally and as soon as possible.
You will dispose of waste of time and expenses in case of possible refusal of IE registration
We will gather and issue all the documents as soon as possible. Our experts have extensive experience in this field which exclude errors and consequently a refusal of registration.
You will receive full legal support and consultation on any question you have
Even before the start of cooperation we will consult you for free in any format convenient to you: by phone, email or visiting your office. Our lawyers know the regulatory-legal base perfectly and have a big experience of work in this field so you can be sure of a fast IE registration without problems.
You will get the best service quality on profitable conditions
We can find the most convenient and profitable cooperation scheme for each client. We have reasonable prices and various forms of payment. They are cash and non-cash payment to electronic money.
We give you gifts
We will get the ARQEAT statistics codes for you for free. Also if you decide to close IE and open JSC we will provide a 50% discount for opening JSC. In addition when you open IE you get a free bottle of champagne!